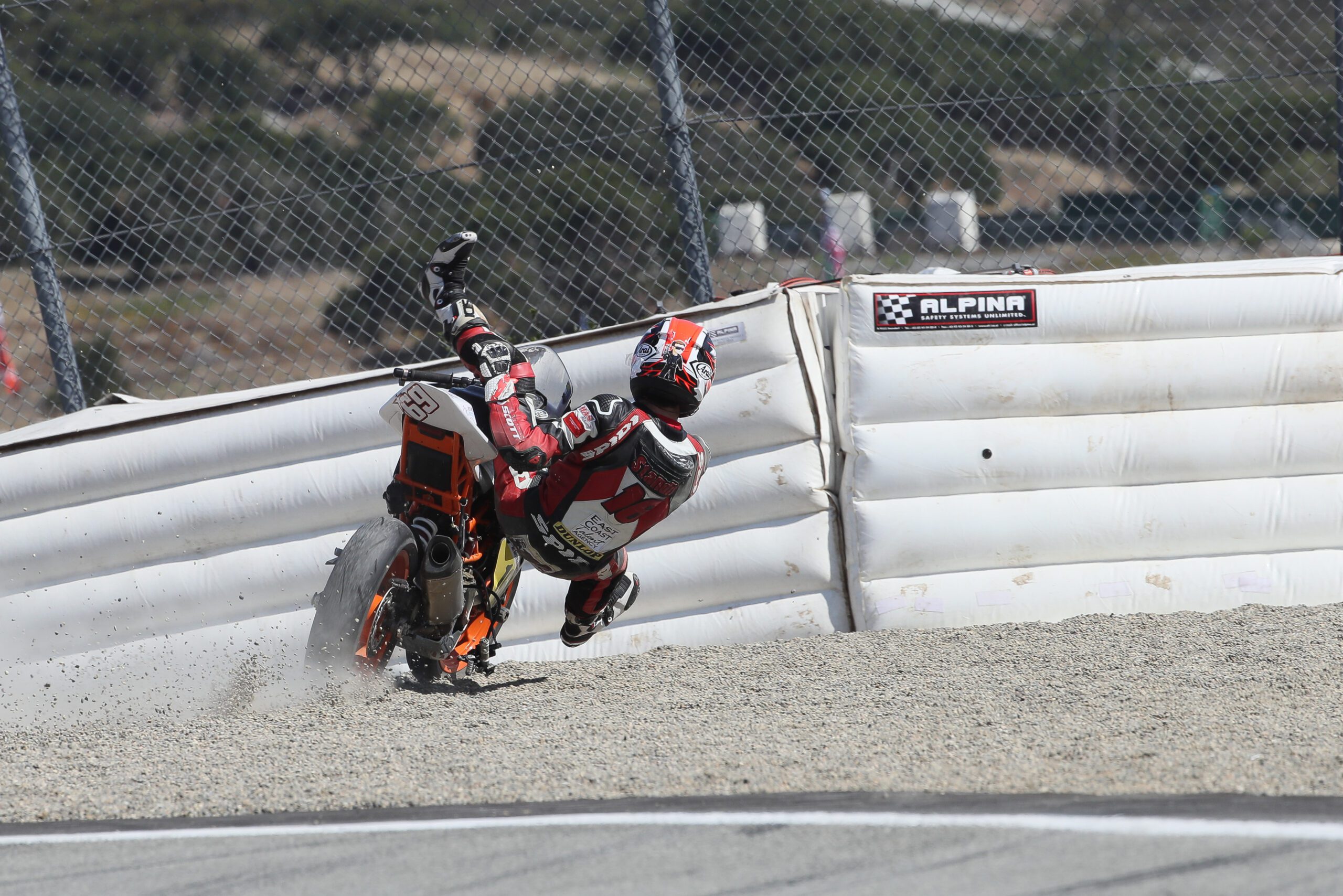 MotoAmerica, North America's premier motorcycle road racing series, is proud of its fans and friends who donated nearly $150,000 to the Roadracing World Action Fund over the course of the 2021 racing season.
A lot of the money for the Roadracing World Action Fund, the 501(c)3 non-profit organization that promotes motorcycle racing safety and the use of inflatable soft barriers at racing events, was raised on a single weekend at WeatherTech Raceway Laguna Seca round of the MotoAmerica Series last July with three individuals donating the funds after seeing the soft barriers made by Airfence and Alpina brands in use.
A bonus to the WeatherTech Raceway Laguna Seca round of the series was "Rainey's Ride To The Races," a charity ride through the Monterey Peninsula that culminated at the track with a Q&A bench-racing session with three-time World Champion and MotoAmerica President Wayne Rainey and four-time World Champion Eddie Lawson, who also participated in the ride.
The largest of the donations from the weekend came from Medallia's President and CEO Leslie Stretch, the sponsor of the 2022 MotoAmerica Medallia Superbike Series contributing $100,000 to the cause.
"For me it's very simple," Stretch said. "Every track I go to where I know that everything has been done for the safety of the riders, I exponentially enjoy going there. All sponsors should allocate part of their investment to ensure that is the case. It results in happier spectators, more focused competitors, and happier sponsors all around. It's just the right thing."
Another who contributed mightily to the fund was Robert Talbott, the founder of Talbott Vineyards and the owner of the Moto Talbott Museum in Carmel Valley, California. Talbott donated $20,000.
"When I realized that the Roadracing World Action Fund was a 501(c)3, I was pretty excited," Talbott said. "It was something different than our normal donations. I've crashed and hurt myself, broken ribs, and various things and I understand how this could be an incredible life saver. I love this, and that there can actually be something to be done to keep riders safe… Riding motorcycles is a defensive hobby, sport, love, profession, and I absolutely am committed to riding. I have a lot of CHP (California Highway Patrol) buddy friends who ride and I've also got Hell's Angels buddy friends. I love people who ride, and their safety is paramount. I want to ride long, but I want to ride safe. I love the fact that we can make a difference to keep riders safe. I've seen a lot of races and I've seen a lot of crashes and here is something we can be part of, and I'm thrilled. I have such respect for Wayne (Rainey) and if he's channeling it, pushing it, I want to help him. This is really, really a neat thing. So many of the causes today don't make the sense that this did to me. This is the right thing to do and my wife Vivian and I both believe in it."
The Roadracing World Action Fund had a successful year in 2021 beyond the Laguna Seca weekend with the Team Hammer Dunlop ECSTAR Two-Seat Superbike rides accounting for an additional $13,000 in donations and the MotoAmerica sanction fees program bringing in $4,000.
"I think I speak for everyone in our paddock when I say thank you to all those who contributed donations," said MotoAmerica President Wayne Rainey. "Leslie (Stretch) feels strongly about the fund and what it does to help ensure the safety of our racers, and he really stepped up to help financially. Robb (Talbott) and his wife Vivian saw firsthand how well the Airfence and Alpina soft barriers work and realized what a lifesaver it is for our racers, and they were the first to donate. All of them liked what they saw and decided to help, and their donations to the Roadracing World Action Fund will certainly help in the effort to purchase more soft barriers."
For more information about the Roadracing World Action Fund, including how to donate, click here